Welcome to the online home of award-winning Christian fiction author Sharon Hinck.
Do you enjoy tales of inspiration? My novels share a common theme. Life can be more difficult than we expect, but even the small choices we make each day can be heroic. We have an amazing God who loves us completely and empowers ordinary people to be part of His story. Whether you enjoy contemporary fiction or epic fantasy, you'll find a story to take you on extraordinary faith journeys.
NEW RELEASE – The Deliverer (book four in the Sword of Lyric series).
Currently free on Kindle – The Restorer (book one in the Sword of Lyric series).
Have fun exploring all the books, the bonus materials, and the resources for writers. Or dip into my latest blog below. And don't forget to sign up for my free quarterly "Book Buddy" email and receive the free devotion e-book.
---
Read the latest from Sharon Hinck's blog: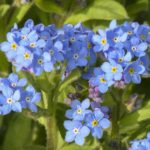 The reason God chooses to love us and invite us into a relationship has sometimes bewildered me. I'm like a forget-me-not: so tiny and unimportant compared to lush irises or sweet-scented roses. Yet even though their blooms are tiny, I love delicate forget-me-nots. And they remind me that God loves me–not for how much I …
Continue reading

God's Reason for Making Us His Treasure
---
Thanks for visiting!
Please stop by often. I hope this site will be a warm and welcoming place where we can interact. You can leave comments on blog posts, or share any blogs with friends using the handy buttons below each post. Or you can use the "contact" page to email me directly.
Blessings,