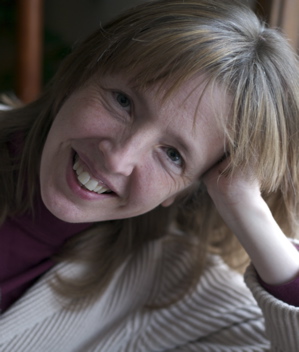 Award-winning author Sharon Hinck writes "stories for the hero in all of us," about ordinary women on extraordinary faith journeys. Known for their authenticity, emotional range, and spiritual depth, her novels include humorous contemporary fiction, women's fiction, and the ground-breaking Sword of Lyric fantasy series. She has been honored with a Christy finalist medal, and three Carol awards for her novels.
Sharon's undergrad degree is in education, and she earned an M.A. in Communication from Regent University. She spent ten years as the artistic director of a Christian performing arts group, CrossCurrent. That ministry included three short-term mission trips to Hong Kong. She has been a church youth worker, a choreographer and ballet teacher, a home-school mom, a church organist, and a bookstore clerk. One day she'll figure out what to be when she grows up, but in the meantime she's pouring her imagination into writing. She's published dozens of articles in magazines and book compilations, and released her first novel in 2006. In April, 2007, she was named "Writer of the Year" at Mount Hermon Christian Writers Conference.
When she isn't wrestling with words, Sharon enjoys speaking to conferences, retreats, and church groups. She and her family make their home in Minnesota.
THE SECRET LIFE OF SHARON HINCK:
Friends who read my work sometimes ask, "Where do you get these crazy ideas?" Here are a few true and slightly odd facts from my life:
I once rappelled down the outside of a four-story building.
I love listening to director's commentaries on DVDs more than watching the actual movie.
I fell in love with my husband Ted when he threw seaweed at me during a class picnic when I was fourteen.
In sixth grade my career goal was to be a secret agent.
My favorite childhood television shows were Man from U.N.C.L.E., Mission Impossible, and Mod Squad.
I once performed a tap-danced interpretation of the Carl Sandburg poem, "Lines Written for Gene Kelly to Dance To."
While Ted and I were in grad school, our car was shot (we weren't in it at the time).
During the rehearsal for an outdoor production of West Side Story that I was choreographing, the police barreled into the parking lot responding to a call from neighbors that gangs were fighting. I told the dancers to drop their chains and knives and start singing.
I once flattened a karate black-belt in a kick-boxing sparring session (he claimed I was telegraphing my punch, so I faked a left jab and got him with a right hook).
I taught classical ballet for 20 years and still have a pair of pointe shoes.
I'm a very bad scuba diver.
I once dressed as Deanna Troi for a Star Trek Next Generation host-a-mystery party.
I taught workshops on creative rubber stamping and scrapbooking for eight years, and earned six free cruises from the company I represented.
I once dressed in a toga to teach about Paul's missionary journeys to Greece in Vacation Bible School.
My favorite college and community theatre role was as Luisa in "The Fantastiks" where in an opening monologue the character prays, "Please, God, please. Don't let me be normal." I think God answered my prayer…
STILL WANT TO KNOW MORE?
Check out these in-depth interviews at TitleTrakk or Novel Journey or listen to Jill Hart's radio interview with Sharon at Christian Women Online.
Sharon has been featured in major media outlets including the Associated Press program Everything Sacred; television broadcast outlets KARE-TV, Mpls., WACT-TV, Atlanta; radio interviews for KTIS, CWAHM, KREJ, WWJC, WQFL, WGSL, WLBF; print features in Minnesota Christian Chronicle, St. Paul Pioneer Press, Alexandria, VA Gazette, and others; reviews in Romantic Times, Booklist, and Publisher's Weekly; and a wide range of online interviews, reviews, podcasts, and features including INFUZE magazine, Christian Women Online, and Novel Reviews.