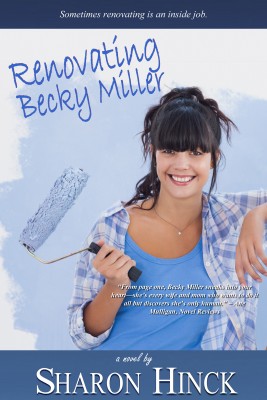 Renovating Becky Miller
WHEN BECKY AND HER FAMILY PURCHASE A RUNDOWN FARMHOUSE, she pictures a slower, simpler lifestyle in the pastoral countryside. Of course, it doesn't quite work out like she imagined . . .
About the Book
Renovating Becky Miller
Becky Miller believes in fixing things: children, friends, mother-in-law, sister, church . . . and her husband. So renovating a run-down farmhouse is right up her alley–the perfect antidote for the pressures of modern life.
But Becky's pursuit of the simple life is soon threatened. Her mother-in-law moves in, her son finds trouble at school, her sister arrives for a visit, her best friend is acting weird, all while work stresses mount. Worst of all, her marriage is in need of some major remodeling of its own.
Cinematic daydreams provide Becky with heroic drama. Maybe that's why she escapes into the scenes so often. In real life, everything is a muddled mess. Who knew one old house could lead them to the brink of bankruptcy? Or that Becky's physical handicap could threaten to steal their dream?
Can Becky stop fixing everyone else and let God renovate her heart so she can find her own happy ending?
DID YOU KNOW…
Renovating Becky Miller is interactive? It includes a discussion guide for book groups in the back of the book AND a list of the movies that inspired each of Becky's daydreams, so you can play along and guess which role she's imagined for herself in each chapter.
ENDORSEMENTS:
"If you're looking for fantastic mom lit, this book is it. It felt good to laugh with a friend and then cry as she walked through struggles that felt an awful lot like mine." – Cara Putnam, American Christian Fiction Writers
"Hinck's writing put me into the protagonist's skin. I felt for her, worried with her, ached when she did, and cried when she realized what she needed to know."– Rebecca Luella Miller, A Christian Worldview of Fiction
"Once again, I'm impressed by how REAL this family feels." – Tim Frankovich, Christian Fiction Review
"…the perfect mom-lit book for all those haggard, stressed out moms looking to put their disorganized world into order." —Cindy Mealers
"Harried Moms and church workers everywhere will find much that is familiar and relatable in Becky's many crises." –– Heather Hunt, TitleTrakk
"I highly recommend this book. You'll gain a new friend and you'll think about some important issues." — Lynn Worley, faithwebbin.net
"Sharon Hinck delivers again, with our heroine's winning ways and unstoppable spirit…a fun story of hope and faith." — Linda Mae Baldwin, Road to Romance

Disclosure of Material Connection: Some of the links in the page above are "affiliate links." This means if you click on the link and purchase the item, I will receive an affiliate commission. I am disclosing this in accordance with the Federal Trade Commission's
16 CFR, Part 255
: "Guides Concerning the Use of Endorsements and Testimonials in Advertising."