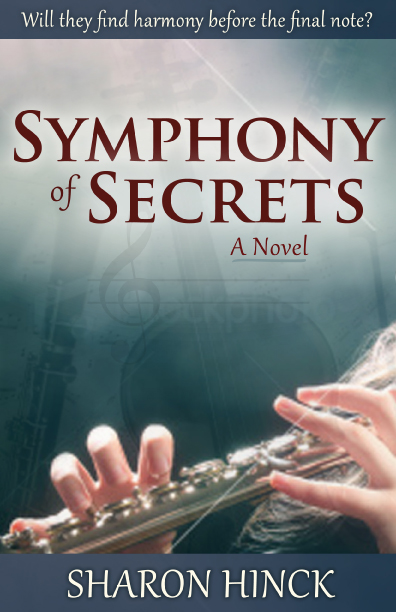 Symphony of Secrets
WILL THEY FIND HARMONY BEFORE THE FINAL NOTE? A talented flutist and armchair detective has trouble concentrating on the notes as she begins to see devious motives behind her fellow musicians' mishaps.
About the Book
Symphony of Secrets
(Originally published by Bethany House Publishing)

      Carol Award Winner – Best Long Contemporary Novel
Talented flutist Amy Johnson's dreams come true when she wins a spot with the Minneapolis Symphony. But this armchair detective has trouble concentrating on the notes as she begins to see devious motives behind her fellow musicians' mishaps. Meanwhile, her musically talented daughter is forsaking the arts for cheerleading. Amy has to confront questions of faith, challenges of being the single mom of a teen daughter, and the secrets of her past – all while solving the mystery of the symphony before it's forced to close and she loses not only her dream job but her promising new relationship with its conductor.
ENDORSEMENTS:
"It's official—if the book says Sharon Hinck on the spine, I'm buying it! Symphony of Secrets hits just the right tone, weaving harmonies of mystery, family, and the life of a symphonic musician—a topic I've not experienced in fiction before. The melody is God's love, subtle yet persistent and so perfectly pitched that I'll be humming that tune for a long time to come. This is a great read and a perfect gift for anyone who finds joy in music." – Kathryn Mackel, author of Vanished
"What a delightful story! I fell in love with the characters on the first page and didn't want to let them go. If you love music, as I do, you'll especially enjoy this engaging tale of lost dreams and second chances. Like a Haydn serenade, your mind will dance along the story line at an engaging pace, allowing your imagination and sense of humor to absorb the melody of its plot. With Symphony of Secrets, Sharon Hinck makes beautiful music with her words!" – Mindy Starns Clark, author of The Million Dollar Mysteries series
"Written with a lyrical style by a very talented author, it gave me the opportunity to indulge in my love of music while enjoying the puzzle of a lighthearted mystery…I highly recommend this novel." – Hannah Alexander, author of Double Blind
"A story filled with hope, humor, and a fun mystery. Sharon's novel illuminates the power of music to transform the human heart and draw us closer to God. — Sharon Dunn, author of the Bargain Hunters mysteries
Disclosure of Material Connection: Some of the links in the page above are "affiliate links." This means if you click on the link and purchase the item, I will receive an affiliate commission. I am disclosing this in accordance with the Federal Trade Commission's
16 CFR, Part 255
: "Guides Concerning the Use of Endorsements and Testimonials in Advertising."