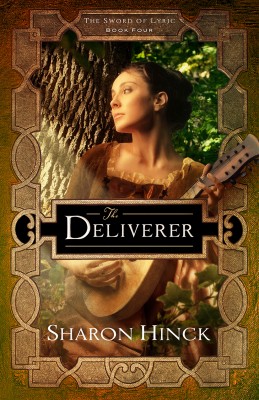 The Deliverer
A LOST SONGKEEPER MUST LEAD HER PEOPLE TO A PROMISED DELIVERER. Eager to serve the One, Linette travels to the dark and foreign nation of Hazor, but Kieran has lost his Restorer gifts, and danger stalks them both.
About the Book
The Deliverer
(Sword of Lyric Series – Book 4)

A lost songkeeper must lead her people to a long-awaited Deliverer
Eager to serve the One, a young songkeeper travels to the dark and foreign nation of Hazor, but her confusing, rough-edged companion has lost his Restorer gifts. As danger rises against them both, she loses her freedom, her memories, and her hope. Now even the very music of her soul is threatened.
In our world, Susan Mitchell no longer feels at home in the carpool lane. Burdened by the unhealed scars from her trips through the portal, she fights to suppress her worry about her son, who remains out of contact in Lyric. But when a mysterious message hints Jake is in danger, she and her husband are swept away—to the place they least expect.
Clan rebellions. Lost Restorers. Has the One turned away, or will the face of the Deliverer bring light to the darkness?
ENDORSEMENTS
"OH. MY. GOODNESS. What a joy to return again to Braide Wood, to Lyric, and to the people of the verses. Sharon Hinck has crafted a compelling plot, an entrancing setting, and characters that are so realistic I felt like I was welcoming long lost friends. I slipped into the story world seamlessly through the viewpoints of Linette and Susan for another exciting other-world adventure.
I love the spiritual element woven so beautifully into the very fabric of the story. That's one of Hinck's strengths, and a skill that few inspirational novelists do well." — Virginia Smith, best-selling author
"The book opened up and I fell in…again. The characters are genuine; the plot is intriguing; and evil tries just as hard to prevail as it does in our world. Music is an important part of all the books in the series, but in this book, it was almost like an additional character, jump-starting my own worship, at times, making me put the book aside and appreciate the Lord of our universe. The lyrics recited in the book could be sung in a Christian church and would enhance worship there. This is the very best kind of Christian fiction." — Amazon review
Disclosure of Material Connection: Some of the links in the page above are "affiliate links." This means if you click on the link and purchase the item, I will receive an affiliate commission. I am disclosing this in accordance with the Federal Trade Commission's
16 CFR, Part 255
: "Guides Concerning the Use of Endorsements and Testimonials in Advertising."