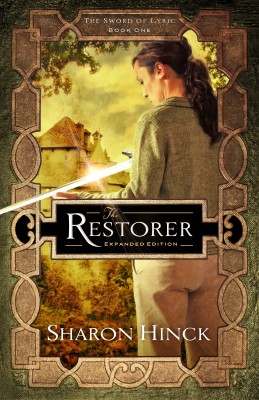 The Restorer
SOCCER MOM IN OUR WORLD. PROMISED RESTORER IN ANOTHER. Susan Mitchell thought she was an ordinary homemaker. She was wrong. Pulled through a portal into another world, she finds a desperate nation waiting for a promised Restorer.
About the Book
The Restorer
(Sword of Lyric Series – Book 1)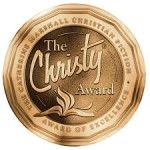 Christy Award Finalist – Visionary Fiction


    Carol Award Finalist – Speculative Fiction
Meet Susan, a modern-day soccer mom who is pulled through a portal into another world, where a nation grappling for its soul waits for a promised Restorer to save their people.
Susan has always longed to do something great for God, but can she fill this role?
She struggles to adapt to a foreign culture. Tackles an enemy that is poisoning the minds of the people. Uncovers a corrupt ruling Council. And learns that God can use even her floundering attempts at service in surprising ways.
ENDORSEMENTS:
"The Restorer is a great book for the hero – or heroine – in all of us. Sharon Hinck gives us a beautifully-realized world that demands the best that an everyday, run-of-the-mill Mom doesn't even know she has. Hinck's prose engages us in every moment of the struggle as the strength of the One drives the battle of the faithful against unimaginable odds, Excellent characters and an intriguing plot provide readers with great entertainment along with spiritual inspiration and enlightenment. I simply loved this book, hated for it to end, and am grateful that there's another in the Sword of Lyric series coming soon." ~ Kathryn Mackel, author of Outriders and Trackers
"A compelling adventure, an engaging heroine, a unique and fascinating other world The Restorer satisfies on many levels. Skillfully incorporating themes of faith, sacrifice and the power of words to deceive or deliver, Sharon Hinck has crafted a tale that resonates in both soul and spirit. A welcome addition to the expanding genre of Christian fantasy. Don't miss it!" ~ Karen Hancock, author of the Christy Award-winning LEGENDS OF THE GUARDIAN-KING series.
"Fresh and compelling … she zigged every time I expected her to zag, and the world she created is full of mystery and suspense and the awe of discovery. But it's the characters, especially her soccer-mom-come-prophesied-hero, who keep you coming back for more." ~ Robin Parrish, author of Relentless
"Sharon Hinck has done a remarkable job in writing a fantasy for people who don't normally read fantasies. A soccer mom finds herself in an alternate universe where she has to save her adopted people from vastly more powerful enemies. Loved the swordplay. Loved the spiritual insights. Most of all, loved the main character, Susan Mitchell, a compelling mix of Everymom and Wonder Woman." — Randy Ingermanson, award-winning author of Retribution
REVIEWS:
"I love it when what's typical gets twisted around, and Sharon Hinck has done that again…Brilliant…Highly Recommended." – Christian Fiction Review
"What a ride! Hang on to your speculative seats!" – TitleTrakk
"From the first page to the last you will be sucked into this alternate dimension along with its strong spiritual message…" – Armchair Reviews
"Hinck explores the inner journey of a middle-aged mom, creating a unique, fascinating, and meaningful story. A highly recommended read for both fantasy and women's fiction lovers." – Author's Choice Reviews
"The story holds you on the edge of your seat and a number of twists keep you reading." – Blog Critics
"Hinck reveals herself as a force to be reckoned with in the genre, expertly balancing the strange and fantastic with genuine, relatable spiritual struggle and character growth…" – The Bridge

"One of the best novels I've read all year…I highly recommend this book for its extraordinary writing style, lovable characters, thematic content and elements of suspense." – The Christian Suspense Zone
"Just in time for a great summer read . . . There's no better way for an out-of-this-world vacation." – Novel Reviews
"The Restorer" is the most amazing piece of fiction I've ever had the pleasure of reading–and I read A LOT!" – A Peek At My Bookshelf
"Hinck combines adventure with humor in this creative story. The reader is treated to impressive sword battles, an alien mind poison and surprises throughout the book." – Romantic Times
MORE Reviews, Interviews, Etc.

Disclosure of Material Connection: Some of the links in the page above are "affiliate links." This means if you click on the link and purchase the item, I will receive an affiliate commission. I am disclosing this in accordance with the Federal Trade Commission's
16 CFR, Part 255
: "Guides Concerning the Use of Endorsements and Testimonials in Advertising."