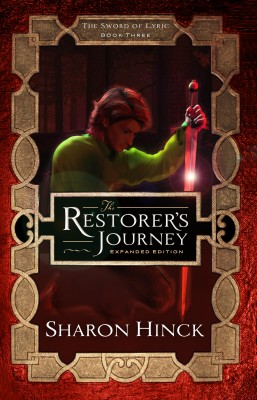 The Restorer's Journey
HIS CHOICES HAVE THE POWER TO SAVE OR DESTROY. With a loved one's life at stake, Jake charges through the portal into Lyric to stage a dramatic rescue.
About the Book
The Restorer's Journey

(Sword of Lyric Series – Book 3)

    Carol Award Winner – Speculative Fiction
The world he knew is gone.
Confident in his new Restorer signs, Jake crosses the portal into Lyric to stage a heroic rescue. But everything has changed.
Jake is forced to confront hostile friends, the mental control of a corrupt king, and deadly lies that have claimed the clans. His path leads him to alliances with outlaws, dire battles, and even the temptation to forsake his calling.
Susan faces her own battles as she struggles to survive a brutal captivity. Can she find freedom before enemies destroy her spirit? Will Jake's choices save the clans or lead to her death?
ENDORSEMENTS:
"Sharon Hinck's Sword of Lyric series invites you to the faraway realm of Lyric, a place as thrilling as Middle Earth, as enchanting as Narnia, and as deep as the human soul." – Wayne Thomas Batson, author of the best-selling Door Within trilogy.
"Riveting. Enriching. Compelling. Sharon Hinck has made this third journey to Lyric as fantastic as the first. And left us challenged to find our own place in The Kingdom." — Lois Richer, author of Healing Tides.
"What a terrific adventure and what engaging characters! Who knew that a warm family drama could include swords and songkeepers, enemy treachery, and the faithfulness of the One? Thank you, Sharon Hinck, for many hours of enjoyment and inspiration." –Kathryn Mackel, author of Vanished
"In The Restorer's Journey, Sharon Hinck weaves a magnificent tale, a collision of every day life with the fantastical realms of the unknown. She masterfully portrays characters of no uncommon standing pitted in an epic fight to save all they hold dear. And in this is her great strength: To bring out the universal flaws of humanity while revealing that even the simplest of individuals has the innate ability to be heroic. I commend her for a series well written and well timed. Highly recommended. Such a force is to promoted and treasured for generations to come. Man needs not know who he is nearly as much as who he can be." — Christopher Hopper, author of Rise of The Dibor and The Lion Vrie
Disclosure of Material Connection: Some of the links in the page above are "affiliate links." This means if you click on the link and purchase the item, I will receive an affiliate commission. I am disclosing this in accordance with the Federal Trade Commission's
16 CFR, Part 255
: "Guides Concerning the Use of Endorsements and Testimonials in Advertising."