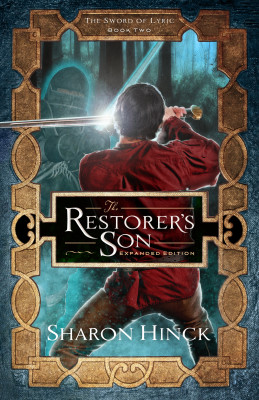 The Restorer's Son
CHOSEN TO SAVE A PEOPLE. CALLED TO SERVE AN ENEMY. Cast out by those he trusts, Kieran prefers to cross swords with the One rather than yield to His will.
About the Book
The Restorer's Son
(Sword of Lyric Series – Book 2)

   Carol Award Winner for Speculative Fiction
Plunged again into the gray world of Lyric and Hazor, Susan and Mark search frantically for their teenage son, Jake, as all signs hint that a trusted ally has betrayed them. Assassins, political intrigue, false leads, and near misses beset their path, which will lead them into the dark prisons of Hazor before the One's purpose is revealed.
Cast out by those he trusts and preferring to cross swords with the One rather than yield to His will, Kieran flees to enemy Hazor, only to find that the One knows no borders. Pursued by his calling, Kieran finds a boy without a home, a king with burning questions, and a nation torn by darkness. As he embraces the tasks the One has set before him, this new Restorer learns that the One requires his all—perhaps even his life.
ENDORSEMENTS:
"Because of Sharon Hinck, I have fallen in love with a new genre. I admit, the idea of a soccer mom transporting to another world raised my eyebrows, but I had no idea I'd also be transported from my sofa to face epic battles of good and evil, discover people I fell in love with, and find a latent desire to handle a sword! Most of all, The Restorer and The Restorer's Son encouraged my own spiritual walk, and I returned from the journey a warrior, ready to sing the Verses! The Sword of Lyric series is exactly what Christian fiction should be. Bravo, bravo . . . and more, please!" –Susan May Warren brand-new fantasy aficionado; award-winning author of Reclaiming Nick
"I've just returned from the world of Lyric, and I'm dazzled and amazed! Sharon Hinck's powerful and inventive tale grips you from page one and doesn't let go. Her characters are made of flesh and blood and human emotion. Her writing crackles with imagination and energy, and there is a spiritual core of truth to The Restorer's Son that transcends the realm of fantasy. Enter the world of Lyric and see what I mean." –Jim Denney author of the Timebenders series and Answers to Satisfy the Soul
"I loved this book! Sharon Hinck takes the meaning of being 'a sojourner in this world but not of it' to a new dimension. Our heroine returns to Lyric with one goal: finding her son. The new Restorer has one goal: avoiding his calling. Both ask honest questions that plague most Christians in their walk with an all-powerful, all-knowing God. And the
answers come in unexpected ways that satisfy the reader's thirst for knowing God." — Donita K. Paul author of DragonSpell, DragonQuest, DragonKnight, and DragonFire
"A triumph! In this new series, Hinck not only has blended God's might with her imagination but also gives readers insight into the power of praise and the Word of God. While turning the pages of these books night after night, I often found myself pausing to pray and repeat the songs and verses of the people of the clans, the people of the verses. On more than one occasion, I paused to consider the 'poisons' affecting my own mind. There's also enough action for all the guys and tender family moments for the moms. These are great reads for the entire family. I can't wait for the next one." –-Marilynn Griffith author of Turquoise and If the Shoe Fits
"Sharon Hinck has done it again! The Restorer's Son will be especially meaningful to anyone who has ever wrestled with God. This book came into my hands just when I needed it." – Randy Ingermanson, award-winning author of Oxygen
REVIEWS:
"Hinck has created wonderful characters, amazing detail and a great story. 4.5 Stars" — Romantic Times
"Hinck, as always, surpassed my expectations… I became so engrossed with the characters that I couldn't put it down until I knew how it ended." — Blog Critics
"Once again, Hinck demonstrates what a quality craftsman she is. With an economy of words, she paints vivid pictures, understandable characters, dramatic action.." – A Christian Worldview of Fiction
Disclosure of Material Connection: Some of the links in the page above are "affiliate links." This means if you click on the link and purchase the item, I will receive an affiliate commission. I am disclosing this in accordance with the Federal Trade Commission's
16 CFR, Part 255
: "Guides Concerning the Use of Endorsements and Testimonials in Advertising."