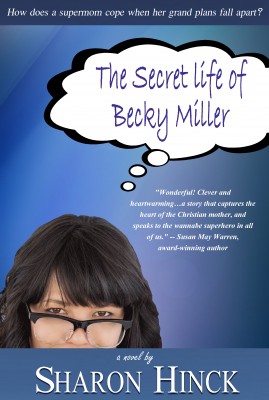 The Secret Life of Becky Miller
MOVE OVER WALTER MITTY. HERE COMES BECKY MILLER. A young mom dreams of doing Big Things for God. How will this supermom react when her grand plans fall apart?
About the Book
The Secret Life of Becky Miller

   Finalist – Carol Awards
Faster than a speeding minivan, able to leap piles of laundry in a single bound. It's a bird, it's a plane. It's Supermom!
Move over, Walter Mitty. Here comes Becky Miller. A young mother with grandiose daydreams and a longing to do "Big Things for God" searches for direction amid the chaos of daily life and the disappointment of failed opportunities.
Becky's rich fantasy life helps her cope with the pressure to be a Wonderful Wife and Marvelous Mom. But she keeps hearing the tape play: "Your mission, should you choose to accept it: support your husband when he loses his job, nurture an eccentric circle of friends, raise perfect Christian children, live a life full of grand Purpose, all while standing on your head and whistling Dixie. Your fantasy will self-destruct in five seconds."
ENDORSEMENTS:
"In the style of James Thurber's Walter Mitty, Sharon Hinck delivers an exceptional read that will touch your heart and your funny bone. By the end of the book, you'll feel like Becky Miller is your best friend." — Tim Bete, director of the Erma Bombeck Writer's Workshop
"From page one, Becky Miller sneaks into your heart–she's every wife and mom who wants to do it all but discovers she's only human." — Ane Mulligan, Novel Reviews
REVIEWS:
Armchair Interviews "She adeptly mixes the absurd with reality and it packs a punch."
Blog Critics "Hinck's skill with language and her comedic timing in telling this modern parable will delight anyone who enjoys good writing."
Book Loons " . . . a superlative novel, a must-read for every Christian mother."
Christian Fiction Review "Highly Recommended"
Christian Women Online "Meeting Becky Miller was like looking in the mirror."
Dabbling Mum "It's a book designed to inspire women where they are right now!"
Faithful Reader "Fun, yet fast-paced style."
Inspirational Romance Writers "A great read for those Moms struggling with their faith and how to fit their roles in the big picture."
Novel Reviews "From page one, Becky Miller sneaks into your heart."
Once Upon A Romance

"

What a joy!"
Romance Junkies "This is one of those books people will rave about."
Romantic Times "A lighthearted and humorous look at a mom striving to be all that she can be for God."
Disclosure of Material Connection: Some of the links in the page above are "affiliate links." This means if you click on the link and purchase the item, I will receive an affiliate commission. I am disclosing this in accordance with the Federal Trade Commission's
16 CFR, Part 255
: "Guides Concerning the Use of Endorsements and Testimonials in Advertising."